Information management which integrates social media is crucial for competitiveness, business, catastrophic or epidemic containment and political campaigns. The right information. timeliness and the layout of presenting it or using it can win wars, lawsuits, epidemics, competition or election campaigns. At the end of the day crucial decision making relies on the big tech infrastructure as well as the way other organisation and the public uses it.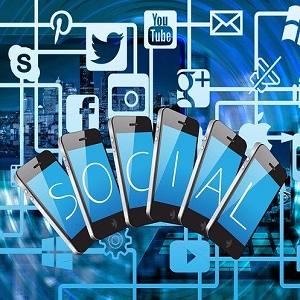 The social media tools that are available today created "Big Tech" monsters that basically generate income from selling added value services, ads and awareness campaigns. Those companies consult, develop algorithms and robots while giving strategic services to other corporations, governments, military, political parties and intelligence communities.
On top of that they generate income from micro-users via traffic and online communication solutions. In this way Big Tech is able to "bait and hook" industries, governments organisations using their "micro users mass base". and vice-versa.
Big tech companies compete on traffic retention, which means once a user is in their platform, the provider tries to make the user stay in the websites or applications hosted by this company before moving to other platform. Hence, in order to survive, those companies will enable and compete on the same type of services: including Search services, video and streaming, collaboration/messaging, advertising/presence and eCommerce. Projections are that big tech parent companies will swallow news and communication companies over time and that other companies might transition into media companies. Amazon evolved from online bookstore into an integrative platform that offers streaming, news, and almost every imaginable product and service delivery system for end-users, corporations and governments.
Each time a new service emerges big tech will try to buyout or develop similar applications that would keep the traffic in their hands. The technological barrier of developing algorithms and end user services are getting easier to overcome. In the same time the end users are getting used to an evolving look and feel of standardised and improved. serviceability. In that sense IT managers have to deliver an reprogram their applications, keeping in mind that every user that moves away means lost revenues on added values and advertising income.
Added values are priced based on usage, traffic volume/quality and the ability to present and sell qualitative information based on statistics gathering, analytics and targeting. This ability is implemented through algorithms and captured user dependency and affect the charged price for services or even the market price of IPOs or stock value. In this way, companies that were involved in social media and achieved a threshold of user volume, established a market value that surpasses the price of tangible goods companies and the "military industrial complex" capitalisation value in peace time.



The ability to program social media software is getting more viable by the day due to open code and reusability standards, open platforms, reduced storage and hosting costs and decreasing bandwidth communication prices. Thus, those companies have to adapt and evolve fast and get better for retaining their user base. Nevertheless , many small companies are bought out or are forced to close after Congress gives preferential SEC 230 immunity to the big tech that they favor while deplatforming smaller companies if there was a post from a third party that wasn't politically correct. Thus congress in an indirect way is limiting freedom of speech and variation of ideologies while giving a free access to big companies to perform noncompetitive buyouts.
With this clutter of online services an entity that needs to use that information faces many challenges. There is no unified cross platform and cross entity solution that enables efficient gathering information bits that can be linked or stored for later use simultaneously for multiple purposes at the same time. Corporations, organisations and governments have a difficulty of allowing their employees and customers/users to use their information and knowledge over open networks in an efficient way as well as classifying and declassifying this information. They also face difficulties servicing their customers or target audience through a common communication tool that is not behind a firewall or under restrictions that are confined by procedural regulation.
Sound and adaptive knowledge management is critical for survival and competitiveness. It serves:
Information storage, classification and delivery for operative purposes at the frontline
Having the right information with the right presentation layer implies an organisation can understand the agents of successes and failures in each department
The organisation can communicate and respond to authorities, customers, providers, customers, taxation and judicial claims
Basis for analysing what are the implications of prior organisation changes vis-a-vis market changes, and hence the ability to pinpoint opportunities and risks
Basis for managerial decision making and response to non foretasted events
Knowledge base at the technical and managerial level should redundant and be kept in a way that prevents a key member holding critical information on procedures or technicalities for leveraging this position. Even if not told explicitly, shareholders and management that understand that mission critical leverage, have to succumb and can't replace this person. In some cases they have to increase benefits for this person and the relevant entourage (Friends and Family) .
Data analysis and up to date knowledge management systems should integrate social media information symbiosis and presentation layers. This is a game changer on conventional IT departments and data mining role , since data should access rapid changing open data while maintaining the firewalls and security mechanisms needed to protect the organisation.
The information within those entities is not available to the right person in the existing unforeseeable circumstances. When the information is in a database or over the cloud it might not be accessible from the available physical place or devices on time because the combination of the needed application, know-how, network or password is not working when mostly needed.
Most entities have the information in the "heads" of their members or their databases but other members are not aware of the existence of the much needed information or how to get it on time and the right shareable manner. So many operational tasks and management decision making are not taken to the next level. One of the biggest challenges for information management is not getting the information from outside, rather on how collecting internal knowledge, classifying, making is available for immediate operation use or managerial decision making. When a consultants give advise on information management they don't have the whole picture and the information available inside the consulted entity and outside the entity, thus inf new information re-emerged or was not considered during the decision making than the consultant would need a consultant to advise them on how to consult.
A viable solution should incorporate a device independent means of searching, pushing and sharing information data. The information haw to be pickled up and classified by algorithms or persons and the information that is built under the right arrangement of these bits accordingly with relevance, context and categorisation.

A right knowledge management tool can win wars, political campaigns, business success, epidemic containment or catastrophe management.
---
Sources and Related Links