What are Biden and Pinchuk doing in the same NGO?
The real name of the ONG should be "Alliance for Democrats". The council is self declaring that it is a "Transatlantic, bi-partisan Commission launched to prevent election meddling", while no influencing Republican is part of that group.
The Alliance for Democracy purposely doesn't have sound investigations on how the Democrats used IC, Ukraine, Russian, UK and Australia assets to meddle in voting in 2016 and 2018. Allegedly the former Vice President entourage and State Department officials were leveraging coercive intervention using high government positions and tax payers money to benefit family, friends and support DNC narrative as well as Ukrainian oligarchs, lawmakers, prosecutors , media, academia, intelligence communities and global organisations. The most common denominator was the effort to affect the outcome of the 2016 and 2018 elections in the USA and retain power positions and contracts using global organisations, Quid Pro Quo networking, biased media and smear campaigns.
http://www.softpanorama.org/Skeptics/Political_skeptic/Two_party_system_as_poliarchy/Foreign_influence_on_elections/sbu_role_in_spygate.shtml
NOTES: The membership of the commission is:

Joe Biden – Vice President of the United States (2009-2017)
Felipe Calderon – President of Mexico (2006-2012)
Michael Chertoff – United States Secretary of Homeland Security (2005-2009), Co-Chair
Nick Clegg – Deputy Prime Minister of the United Kingdom (2010-2015)
Eileen Donahoe – Executive Director, Global Digital Policy Incubator, Stanford Centre for Democracy, Development and the Rule of Law
Jeanine Hennis-Plasschaert – Defence Minister of the Netherlands (2012-2017), Member of the Dutch Parliament
Toomas Hendrik Ilves – President of Estonia (2006-2016)
Natalie Jaresko – Finance Minister of Ukraine (2014-2016)
Tanit Koch – Editor-in-Chief of BILD newspaper (2016-2018)
Jeanne Meserve – Anchor and correspondent at ABC news and CNN (1984-2011), Senior Fellow at the George Washington University Center for Cyber and Homeland Security (2011-2017)
Victor Pinchuk – Ukrainian businessman and philanthropist, founder of the Victor Pinchuk Foundation
Anders Fogh Rasmussen – NATO Secretary General (2009-2014), Founder, Alliance of Democracies, Co-Chair
Marietje Schaake – Member of the European Parliament, Vice-President of the European Parliament delegation to the US
Joanna Shields – UK Minister for Internet Safety and Security and Under-Secretary of State (2015-2017), Member of the UK House of Lords

https://www.allianceofdemocracies.org/initiatives/the-campaign/press_release_tcei/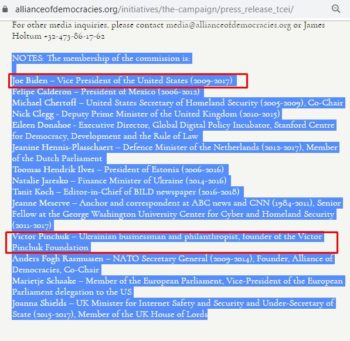 ---
Related Sources and Links
Atlantic Council Think Tank
https://thegrayzone.com/2019/10/13/dcs-atlantic-council-raked-in-funding-from-hunter-bidens-corruption-stained-employer-while-courting-his-vp-father/
Advancing Interests Using Ukraine
https://www.theepochtimes.com/joe-biden-obama-officials-influenced-ukraine-to-advance-own-interests_2896259.html
Pinchuk dealings with the State Department
http://www.softpanorama.org/Skeptics/Political_skeptic/Two_party_system_as_poliarchy/Foreign_influence_on_elections/sbu_role_in_spygate.shtml